Ventilation for negative pressure and intensive care.
RIMOR VIR 100
Medical Device to create negative pressure zone for multiple rooms and PEEP Ventilation for multiple USER.
Made to Serve 40 People with PEEP and to isolate 10 Rooms.
Suitable for facial mask and CPAP
PEEP Therapy for NIV treatment with single value and Facial Mask or PEEP
The machine can create PEEP Pressure for facial mask and for CPAP from 0 to 50 cm H20.
With single regulation for each people the double circuit allow to create positive pressure for CPAP or facial mask and at the same time to create negative pressure in the room of the infectious patient.
RECUBE VIR 100 can be used to create positive pressure with single regulation system for each patient for Facial Mask and CPAP standard.
It is possible to use it also for simple oxygen therapy.
The Idea: with 1 economic machine 40 people in intensive care 10 rooms in negative pressure
How does it work
The machine is a double circuit machine that produce temperature controlled air from 0 to 35 °C and with umidity control.
The same machine keep air from the room and CREATE NEGATIVE PRESSURE giving 6 air exchange and keeping 7 air exchange.

Humidity and temperature electronic Control
Possible to put O2 in central machine or at single users
PC REMOTE CONTROL BOARD
RECUBE Control Drive on PC to Check all ROOMS and all People from REMOTE control by Internet on Monitor or IPAD.
It is possible to monitor and register all the rooms and all the PEEP parameters. It's possible to record with SCADA system all the situation and to be sure that everything is ok. PLC and Ethernet or Wi fi module allow to easily realize a plant.

It is possible to connect also medical device to see all the parameters on PC or Internet.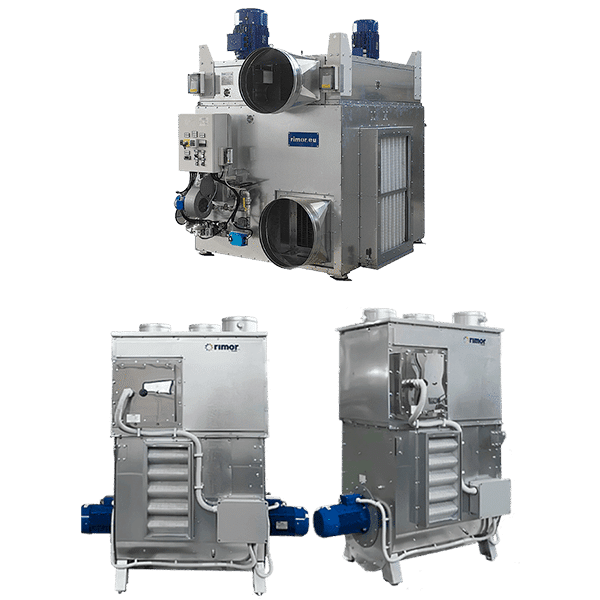 RECUBE VIR 100
Ventilation for negative pressure and intensive care
Totally in AISI 316 and with CE.
Dimension 1,5x,1xH=1,5 meters.
The System is made for many configuration and is possible to put it on TOP or Bottom floor and with any distance from the user.
Attachements